---
This post may contain affiliate text and photo links. For more information, please read our disclosure.
---
2 WW Freestyle Points | 59 Calories
Garlic bread, the perfect pairing to any pasta dish or pizza. Garlic bread is one of my most loved foods, but I often can't afford to spend my calories on it. That is, until my husband Matt started to experiment with two ingredient dough in an attempt to recreate Little Caesar's crazy bread. A large piece of this cheesy, buttery two ingredient dough garlic bread will only set you back 119 calories.
Short on time? Pin it for later.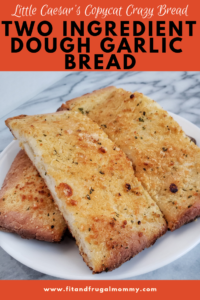 While I typically follow a low carb lifestyle, I also can be found pairing this garlic bread with one of my low carb dishes. It beautifully compliments my Low Carb Chicken Caesar Spaghetti recipe and goes wonderfully with my Chicken Parmesan Stuffed Zucchini boats.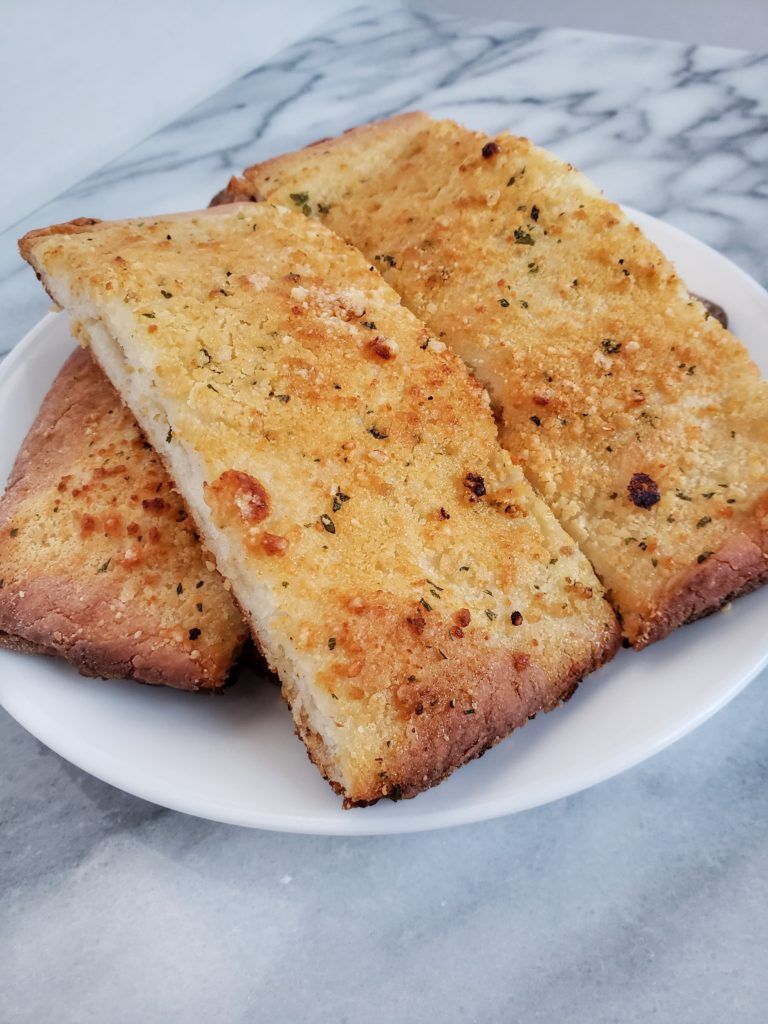 Never experimented with two ingredient dough before? I've got this really easy guide on how to make two ingredient dough. This recipe calls for self-rising flour and plain greek yogurt.
How to Make Self-Rising Flour
Don't have any self-rising flour? That's ok. You can quickly whip some up by mixing the following ingredients in a bowl: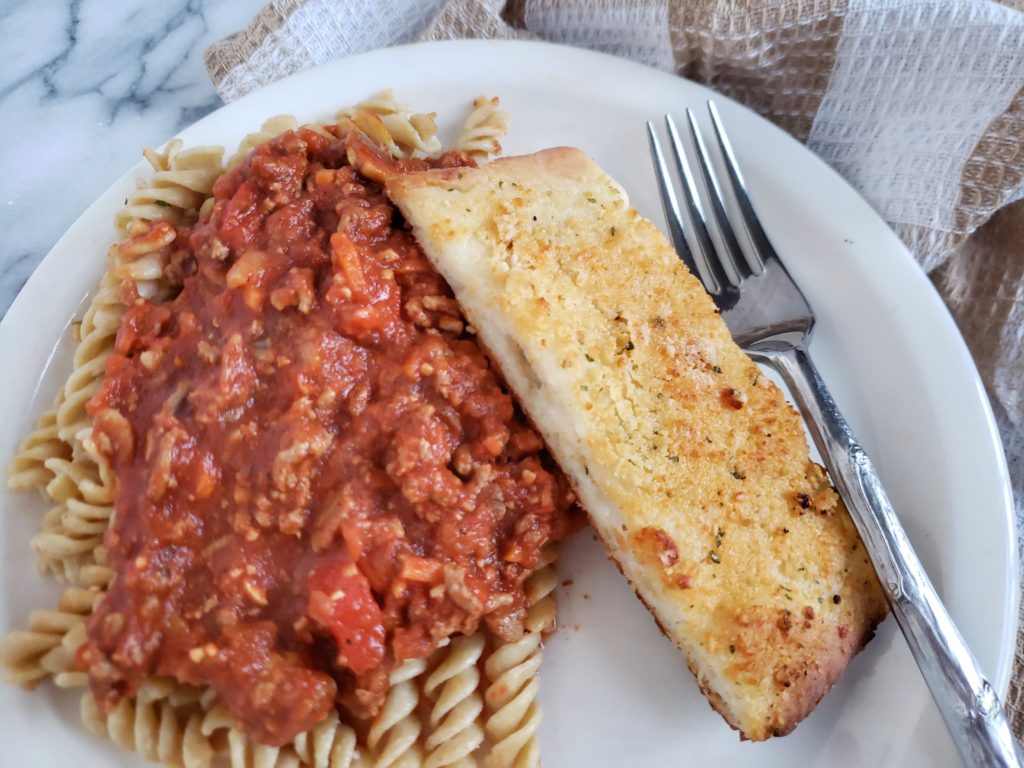 This two ingredient dough garlic bread has quickly become one of my favourite things to whip up last minute. I always have greek yogurt on hand and even if I don't have self-rising flour, I can easily make some. It I think my dinner is missing something and needs a quick side, I'll whip up a side of this garlic bread and a salad. Voila, a full meal.
Recommended Tools for this Recipe
Have a favourite two ingredient dough recipe? Let me know in the comments below!
You might also like
Two Ingredient Dough Garlic Bread
A quick and easy, low calorie copy cat of the Little Caesar's classic crazy bread.
Ingredients
1/2

cup

plain greek yogurt

1/2

cup

self-rising flour

2

tbsp

self-rising flour
Garlic Bread Topping
2

tbsp

light butter

1

tbsp

minced garlic

1

tbsp

parmesan cheese

1

tsp

garlic powder

1/2

tsp

garlic salt

1/4

tsp

salt
Instructions
Mix the 1/2 cup of self-rising flour and greek yogurt in a bowl. It will be sticky.

On a flat surface, sprinkle the 2 tbsp of self-rising flour. Flatten the two ingredient dough and roll it out on the surface sprinkled with flour. Add more self-rising flour if needed to reduce the stickiness of the dough.

In a bowl, melt the 2 tbsp of light butter in the microwave.

In the bowl of melted butter, mix in the garlic powder, salt and minced garlic. Whisk together until well combined.

On a pan lined with parchment paper, place the rolled out dough.

Using a kitchen basting brush, brush the garlic butter mixture over top of the dough.

Sprinkle the tablespoon of parmesan over the garlic bread.

Bake for 17 minutes or until cooked through. Makes 4 large pieces at 119 calories or 8 smaller pieces at 59 calories each.
Recipe Notes
2 WW Freestyle points | 59 Calories, Carbs 8.4g, Fat 2g, Protein 2.6g, when cut into 8.
**4 WW Freestyle Points when cut into 4 large slices.