---
This post may contain affiliate text and photo links. For more information, please read our disclosure.
---
3 WW Freestyle Points | 334 Calories
Every summer one of my favourite things to do with my daughter is go to our local stand of fresh fruit and vegetables and pick them out. Not only are they usually significantly cheaper than their supermarket counterparts, they taste soooo much better. This past summer 'The Stand' had huge zucchinis and when I saw them I thought, "I am going to make something delicious with these". Thanks to The Stand, our delicious chicken parmesan stuffed zucchini boats were born.
Short on time? Pin it for later.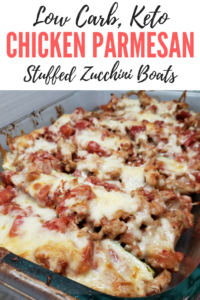 The first time I made this recipe, I wasn't sure that I would like it. As someone who is a self-proclaimed carb lover, I didn't think that I would enjoy a chicken parmesan style dish without the pasta. I was wrong. These chicken parmesan stuffed zucchini boats quickly became a family favourite in our household and we have it a few times a month. I've spoken about how I eat two carb-free meals on days that I do not workout, and this would be one of my go to dinners on those days.
Recommended Article: How I lost 50lbs in 5 months (without giving up a single thing)
I start by cooking the ground chicken in my Heritage Rock pan with onion and garlic. While the meat is cooking, I cut the ends off of each zucchini and cut them in half, lengthwise. I then take a spoon and hollow out the zucchini 'boats', keeping the zucchini flesh in a bowl off to the side. I discard the really seedy parts that are scooped out and keep the rest.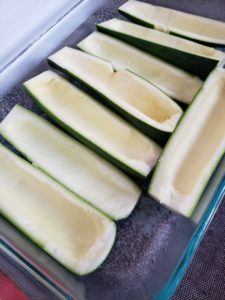 Once the meat is fully cooked and browned, I add the zucchini flesh to the pan, salt and pepper and saute for a few minutes. Then, I add a can of diced tomatoes with Italian seasonings with an optional 1/2 tsp of cayenne pepper. I find this gives it just a little heat while adding the benefits of cayenne pepper. After I have let this simmer for a few minutes, it's time to stuff the zucchinis.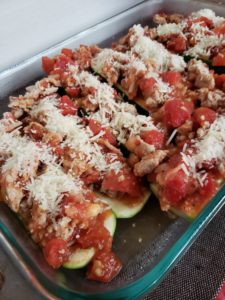 Scoop the meat mixture into the boats. Sprinkle each boat with 1/2 tbsp of grated parmesan cheese.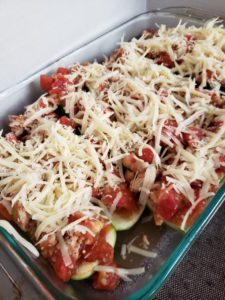 I will top them off with one cup of shredded mozzarella. Pop them in the oven for 25 minutes at 375 uncovered. Tada! A delicious, cheesy, low carb dinner.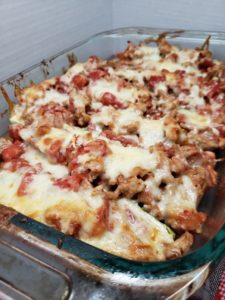 You might also like:
You can see the full recipe below! Have a delicious, low carb dinner you love? Share with me in the comments below.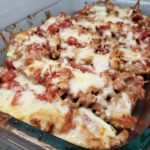 Chicken Parmesan Stuffed Zucchini Boats
A deliciously cheesy, low carb, keto dinner recipe.
Ingredients
4

medium

zucchini

1

lb

ground chicken

1

onion

chopped

1

tbsp

minced garlic

1

can

diced tomatoes with Italian seasoning

salt

to taste

pepper

to taste

1

tsp

Italian seasoning

1/2

tsp

cayenne pepper

4

tbsp

grated Parmesan cheese

1

cup

light shredded mozzarella
Instructions
Brown the ground chicken in a pan with chopped onions and garlic. Salt and pepper the meat.

While the meat is cooking, cut the ends of each zucchini and cut them in half lengthwise.

Scoop out the zucchini flesh using a spoon into a bowl. Discard of any pieces that are really seedy.

Spray a Pyrex dish and place the zucchini boats inside.

Once the meat has browned and is fully cooked, add the zucchini flesh, can of diced tomatoes, Italian seasoning and cayenne pepper. Allow this to simmer for a few minutes.

Scoop the meat mixture into the zucchini boats. Sprinkle each boat with 1/2 tbsp of grated Parmesan cheese.

Add the 1 cup of shredded mozzarella over the stuffed zucchinis.

Bake at 375 for 25 minutes. Let cool for 5 minutes (or until it's not scalding hot!) and enjoy!
Recipe Notes
Nutritional Information
3 WW Freestyle Smartpoints | 334 Calories, Carbs 17.1g, Fat 16g, Protein 30.3g per serving.