---
This post may contain affiliate text and photo links. For more information, please read our disclosure.
---
6 WW Freestyle Points | 196 Calories
Wow, I can't believe it's December 1st already. December is always a crazy month in our household and I'm sure yours as well! Between all of the Christmas festivities and just preparing for Christmas in general, it's amazing I can get anything else done at all. I did, however, manage to squeeze in some time to perfect this High Protein, Low Carb Buffalo Chicken Dip and can I just say, it is soooo good.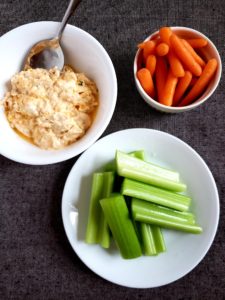 I don't know about you, but when I used to think about healthy food I would picture bland meals. A plain chicken breast, broccoli and brown rice is the epitome of healthy meals. While I do eat something similar to that combination on occasion, this buffalo chicken dip is where that idea of healthy eating comes to die.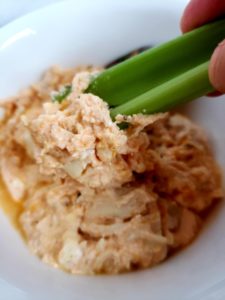 A large serving will only set you back 196 calories (1/4 of the whole recipe). Or maybe you're like me and you eat half of the entire recipe for 392 calories. I don't judge and you don't even need to feel guilty because the whole heaping bowl you will get is still under 400 calories.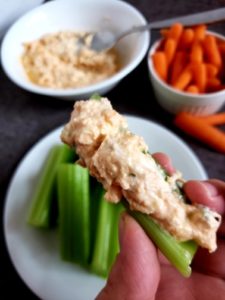 I ate this dip for lunch with veggies to keep the meal a low carb, keto option. Celery is a great option because it's really low in calories. This buffalo chicken dip was one of those meals where I felt like I was cheating on my lifestyle. I wasn't. It really doesn't get any better than that. This dip would also be great for parties dipped with Tostitos or pitas.
This recipe uses prepared shredded chicken. I love shredded chicken as a meal prep item because it's fast and easy and so versatile. Not sure how to shred chicken? I've got you covered. Check out my post on how to boil and shred chicken breasts.
You might also like:
Have a favorite go to healthy snack that feels like you're cheating? Let me know in the comments below!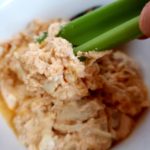 High Protein, Low Carb Buffalo Chicken Dip
A deliciously cheesy low carb buffalo chicken dip that is high in protein.
Ingredients
1

cup

shredded chicken

about 1 breast

1/4

cup

Frank's Hot Sauce

1/2

cup

light cream cheese

softened

1

cup

plain greek yogurt

1/2

cup

light shredded cheddar cheese

1/2

cup

grated parmesan cheese

1/2

tsp

dill

1/2

tsp

dried parsley

1

tsp

sea salt or Himalayan rock salt

1/2

tsp

dried chives

1/2

tsp

onion powder

1/2

tsp

garlic powder

black pepper

to taste
Instructions
Preheat oven to 350 degrees.

Mix all of the spices, light cream cheese, hot sauce, cheddar cheese and parmesan in a bowl. Mix until mostly smooth.

Mix in shredded chicken. Ensure the chicken is well coated.

Spray a baking dish, and bake for 20 minutes. I used a 9x9 Pyrex dish.
Recipe Notes
Nutritional Information
6 WW Freestyle Smartpoints | 196 Calories, Carbs 5g, Fat 10g, Protein 18g per serving