---
This post may contain affiliate text and photo links. For more information, please read our disclosure.
---
4 WW Freestyle Points | 178 Calories
My husband and I absolutely love spinach dip. If we are lucky enough to get away on a date night, I will go all out and order spinach dip as our appetizer every single time. Typically, it's loaded with calories and sodium. I decided I wanted a more cost effective, healthier way to enjoy spinach dip from our home. No longer do we need date night to enjoy spinach dip, we can have this skinny spinach dip from the comfort of our couch, without regret.
Short on time? Pin it for later.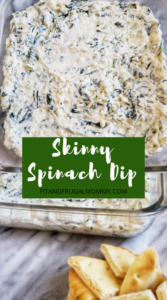 For as long as I can remember, my husband and I have always gone out of our way to try spinach dip at any new restaurant we visit. Spinach dip is my absolute favourite appetizer. Even though I know it's not that healthy, it almost feels that way because it has spinach in it, right?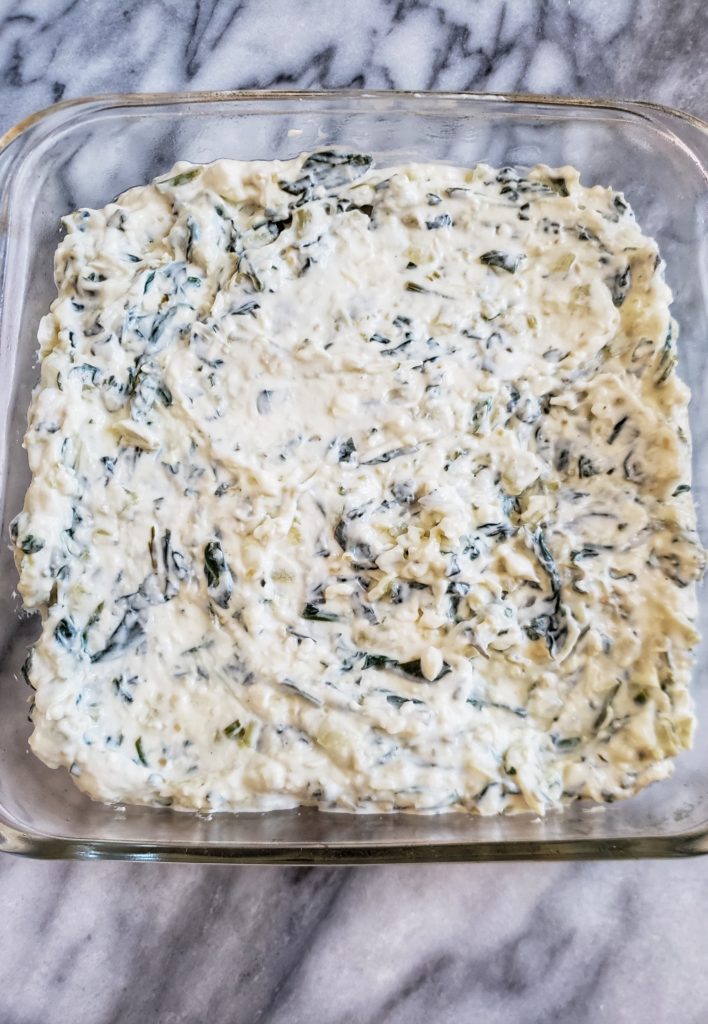 It took me a while to perfect this recipe. I've talked about a healthy spinach dip recipe in our accountability group before (you can join by subscribing at the end of this post!). I never post anything until I am truly satisfied with it and this skinny spinach dip hits the spot. It's creamy, cheesy, low carb and low calorie.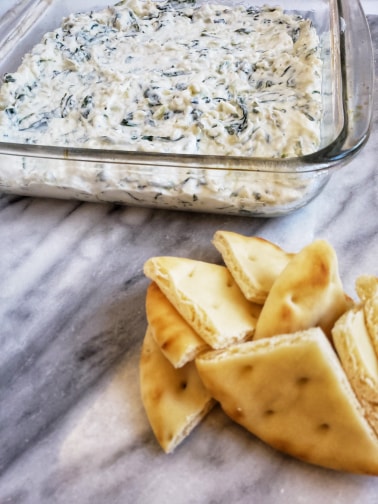 This recipe calls for 3 cups of roughly chopped fresh spinach. Initially, this will look like a lot of spinach. Spinach really cooks down in size though, and once wilted it will barely look like enough.
Recommended Tools for this Recipe
Optionally serve this spinach dip with pitas, naan bread or fresh vegetables for a low carb option. This dip is a winner at only 168 calories per serving. I've said before and I'll say it again, I love any recipe that feels like I'm cheating.
You might also like:
Have a favourite dip you can't resist? Let me know in the comments below!
Skinny Spinach Dip
A delicious low calorie spin on my all time favourite spinach dip.
Ingredients
2

tsp

extra virgin olive oil

3

cups

spinach

roughly chopped

1

tbsp

minced garlic

1

medium

onion

chopped

1/2

cup

light cream cheese

room temperature

1 1/2

cup

plain greek yogurt

1/2

cup

grated parmesan

1/2

cup

light mozzarella cheese

grated

1

tsp

garlic powder

1

tsp

onion powder

1

tsp

salt

black pepper

to taste
Instructions
Preheat the oven to 350 degrees.

In a pan on medium heat, add the extra virgin olive oil, chopped spinach, onion and minced garlic. Stir occasionally until spinach has wilted and onion is translucent.

In a bowl, mix the greek yogurt, light cream cheese, onion powder, salt, pepper and garlic powder with a hand mixer until smooth.

Once the cream cheese-greek yogurt mixture is smooth, mix in the grated parmesan and grated white cheddar cheese with a spatula.

In the bowl, add in the wilted spinach mixture.

Spread the mixture out evenly in an 8×8 pyrex dish. Bake for 20 minutes.
Recipe Notes
4 WW Freestyle Smartpoints | 178 Calories, Carbs 8g, Fat 9.1g, Protein 15.6g per 1/4 of the recipe.