---
This post may contain affiliate text and photo links. For more information, please read our disclosure.
---
I can't tell you how many times during my weight loss journey I plateaued, or my weight didn't move when I had been doing everything perfectly. Nothing is more frustrating than putting in the work and not seeing the results on the scale that you so desperately want to see. I would scour the internet searching for reasons why my weight didn't move or why I am not seeing results and I actually found it hard to find the exact answers I was looking for. This is why I've compiled a list of reasons you're not losing weight, when you're doing everything right.
Short on time? Pin it for later.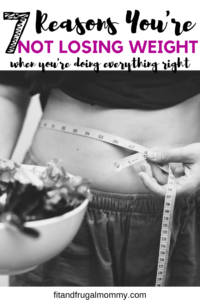 I weigh myself daily, which some people may not agree with. Your weight can fluctuate greatly on a day to day basis and some people may find this discouraging. This is why I keep track of my daily weights in MyFitnessPal and my weekly weigh-in in a separate app called Atki BMI. I consider my total loss as what I have tracked in Atki BMI, however, my daily weigh ins – in addition to my food, water and exercise tracking in MyFitnessPal – allows me to see how my weight is impacted by those factors. The most important thing to note before we look at all the reasons you may not be losing weight is that your body is between 50-65% water and your weight fluctuations can entirely depend on how your body holds on to water weight.
Recommended Article: How I lost 50 lbs in 5 months without giving up a single thing
1. Tracking Calories Accurately
I think one of the most common and frustrating things I read when I plateaued would be that I wasn't tracking calories accurately. I just searched 'Why am I not losing weight when I am doing everything right?', does that not suggest that I am in fact tracking my calories accurately? While it probably does, it's still worth mentioning that little snacks – like a handful of almonds, one chocolate here and there, etc – can add up really quickly.
Over time, I have also become overly confident in my ability to estimate what a tablespoon of peanut butter is. Accurately measuring your food is also extremely important, to ensure that we aren't packing on extra calories when we don't want them.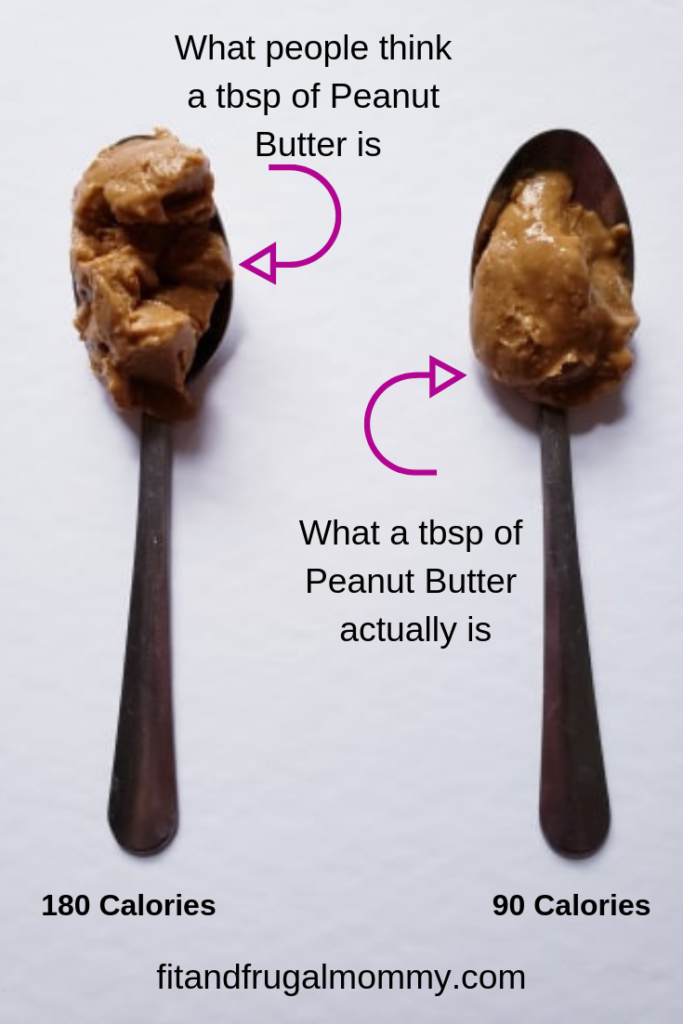 Recommended Article: 5 Kitchen Must Haves for Weight Loss and Healthy Cooking
Equally important to accurately measuring the calories in is making sure we aren't over estimating our calories out. I was really shocked at how many calories an intense workout did not burn for me, which is why I always wear my Fitbit Blaze when working out. Since the Fitbit Blaze has a built in heart rate monitor, it can more accurately guess how many calories my workout burned and I feel more confident when I choose to eat some of those calories burned back. To keep losing weight, we need to be sure that our calories in are less than our calories out.
2. Foods High in Sodium
I remember one day where I had ate under my calories and worked out and I was really looking forward to a drop in the scale the next day. I just knew that all of my hard work would pay off and I would see it on the scale tomorrow. Guess what? I didn't and I was so confused and frustrated until I went back and looked at what I ate. I was surprised and hadn't realized how much sodium was in a pork cottage roll. This has been true for me for almost all types of pork – ham, peameal bacon, etc. among a whole host of other foods. If the weight isn't coming off like I believe it should be, I immediately look for foods high in sodium that could cause me to hold on to water weight.
Processed foods, restaurant meals, prepackaged snacks all contain large amounts of sodium. Your body tries to maintain a water to sodium ratio. What this means is that the more sodium you eat, the more water your body must hold on to, to maintain that ratio. The body's cells will absorb the sodium and temporarily also bring water with them, until the water to sodium ratio can be restored. If I have noticed that my weight hasn't moved and there is a hidden 'sodium culprit' in my past day's diet, I will try to lower my sodium intake and drink a lot of water to reduce water retention.
3. Intense Exercise and Muscle Inflammation
Another factor that plays a role in water retention is increased cardio and weight lifting which can result in DOMS (delayed onset muscle soreness). Again, I had believed that after a day of excellent eating and a great workout that my loss would immediately show on the scale the next day. My body was sore from the amazing workout I had, so I knew the workout was effective and still the scale didn't move. Why?
When you first start a new exercise regime, this places stress on your muscle fibers which causes micro tears and inflammation. In some cases, during the healing process the body will retain water to try to heal the trauma. This is what we are feeling when we are experiencing DOMS. Frequently after I have done an intense workout and my body is sore, I will experience a significant drop in weight once the soreness has gone so long as I have maintained my healthy eating regimen.
4. Menstrual Cycle
One of the wonderful things about being a woman, monthly water retention! A few days of perfect eating and exercising, low sodium and my body wasn't sore and the scale wasn't moving. What gives now?
Premenstrual water retention occurs during the period of time preceding the menstrual cycle. This can cause a slight breast enlargement and tenderness. This is thought to happen due to the hormones present in the body right before a period begins and as much as 5-6 pounds of water retention can occur. Once menstruation begins, the excess fluid is flushed out of the system.
When this happened to me and the scale wasn't moving, I pushed through and maintained my healthy eating and workouts. A few days later the red woman appeared and the pounds disappeared!
5. Increased Carbohydrate Intake
Surprising to me is how much water retention is caused by the consumption of carbohydrates. While I don't follow a Keto diet, I have noticed in myself that if I have a low-carb dinner or a few low-carb meals on any given day, I will weigh significantly less the next day.
Jessica Spendlove, an accredited dietitian told the Huffington Post, "Some of the carbs you eat are stored in the form of glycogen. For every 1 gram of carbohydrate stored in the body as glycogen, there is approximately 2-3 grams of water retained… molecules of glycogen contain water and therefore the more glycogen you store the more water you retain in the process."
6. Slow Metabolism
Most people know that in order to lose weight, we must put less calories in than calories out. So why, in some cases, can someone eat so few calories, exercising regularly and not lose any weight? Here is where I believe the true plateau lies.
Our body adapts to it's current situation for survival. Over time, if the body continues to receive less calories than what it needs to put out, the metabolism will adapt to the calories available and the metabolism will slow. In other words, the more someone restricts their calorie intake and lowers the available calories to burn, your metabolism will slow in tandem to burn less energy. Typically, when someone hits a weight loss plateau, further calorie reduction occurs and greater exercise, slowing the metabolism further.
To repair your metabolism, MuscleForLife recommends the following actions:
Perform weight training 3-5 times per week, as weight training is known to cause a significant after burn and continues to burn calories well after the workout is complete.
Increase your calorie intake gradually, until you are eating the calories you would need in order to maintain your weight. (Calories in is equal to calories out)
You can read more of MuscleForLife's recommendations here. In my personal experience, I also find the body adapts to my workouts if I continue to do the same workouts over and over. This is why I frequently change my workouts to continue to shock my body.
Recommended Article: 5 Fast and Free Tabata Workouts with No Equipment Required
7. Not Drinking Enough Water
One of the main goals we try to tackle in the Fit and Frugal Mommy 80/20 challenges is to increase our water intake. If I don't drink enough water in a day, not only do my skin and lips look noticeably drier, my weight doesn't move much on the scale.
Want to join other Fit and Frugal Mommy members change their lives with the 80/20 challenges? Sign up below!
Contrary to what most people might think, drinking more water actually reduces water retention. When the body doesn't get enough water, it will retain more water to prevent dehydration. This is why we place such an emphasis in our Fit and Frugal Mommy 80/20 challenges on keeping our water intake up.
Want to check back on this information later? Pin it now.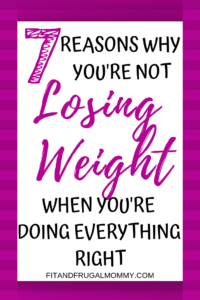 Have any great tips for fighting off a weight loss plateau? Let me know in the comments below!