Ever since the birth of my son, I have fallen in love with Tabata workouts. After my daughter in 2013, I would perform HIIT workouts (High Intensity Interval Training) which varied in duration and length. A tabata workout is a type of HIIT workout. Specifically, a tabata follows a 20 seconds work, 10 seconds rest formula. Each tabata round lasts 4 minutes, followed by a longer rest between tabatas.  I've fallen in love with tabatas because no move is performed for too long that I'm exhausted and it changes so frequently that the workout flies by. (Winning!) In light of this, I've compiled a list of 5 fast and free tabata workouts with no equipment needed.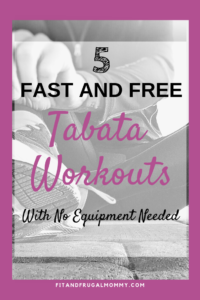 Before we get to the list of tabatas, let's talk about why tabata workouts are so effective. Back in the 90's, a Japanese professor performed a study that showed that just 4 minutes of high intensity exercise could be more effective than hours of low intensity exercise. How? When exhausting your body in the short, 20 second intervals you are able to increase your aerobic and anaerobic capacity, V02Max and your resting metabolism. In short, you will continue to burn calories way after your workout has ended.
Recommended: How I lost 50lbs in 5 months without giving up a single thing
A workout that's fast and effective? Count me in!
Most of the linked workouts do not include music. When performing a tabata workout, I typically check Spotify for workout playlists with ~135bpm (beats per minute). I find this speed of music goes really well with the speed I am working and keeps me fired up.
1. 15-Minute Beginner's Tabata Workout
I wanted to start with this workout because it's an excellent introduction to tabata for beginners! All that's needed is a chair (or couch) and your body weight.
2. Popsugar Fitness' 20-Minute Tabata Workout
Popsugar Fitness delivers with this 20-Minute tabata requiring only your body weight.
3. Fitness Blender's Quick 10 Minute Lower Body Tabata
Another great, quick and effective workout from Fitness Blender, this 10-minute lower body tabata goes by sooo fast. All that's needed is your body weight to crush this workout! It doesn't include a warm up and cool down, so make sure you add a few extra minutes to squeeze those in!
4. 12-Minute Upper Body HIIT Workout (3 Tabata Supersets)
Since I included a lower body tabata, we've got to even it out with an upper body tabata! This 12-minute upper body tabata is silent so you can play your own music to it, which is great. As a beginner, this may be more challenging since they don't describe the moves, but each of them are shown throughout the workout.
5. 30-Minute Cardio Tabata Workout by 'BodyFit by Amy'
Ready to increase your time? Check out this 30 minute cardio tabata workout with no equipment needed to fire up your metabolism for hours after.
Tried one of the tabata workouts above? Let me know in the comments below!