---
This post may contain affiliate text and photo links. For more information, please read our disclosure.
---
Moving towards a healthier lifestyle can be daunting. What I have learned over my 6 year journey is that there is soooo much information. I started my journey to a healthier lifestyle by making simple substitutions in my diet, which ultimately led to big weight loss. During these 6 years I've also come to lean on some must have kitchen accessories that make healthy cooking and weight loss so much easier.
Short on time? Pin it for later.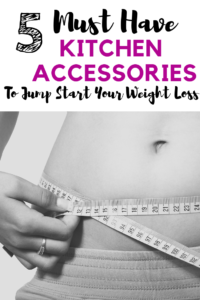 Kitchen Must Haves for Weight Loss
1. Smartphone
Ok, ok. So this isn't really a kitchen accessory, but it has made a world of difference in my life. My smartphone is the most important tool I have in the kitchen. Why?
Don't know what to cook? I can find so many healthy recipes on Pinterest.
Can't find an ingredient or don't know what it is? The power of Google can help.
Run out of a particular ingredient? Check out Amazon Prime and same day/one day delivery. (You can get your free 30 day trial from Fit and Frugal Mommy by clicking this link!)
2. Nutribullet Pro
If you've tried any of my smoothie recipes, you will know that I am obsessed with my Nutribullet Pro. I have had the regular Nutribullet and while it does the job, I have found the power behind the Nutribullet Pro is so much better for things like:
Making your own hummus
Making your own almond butter
The consistency of smoothies
Pasta sauces (I kid you not!)
It's the one kitchen accessory that I use every single day. I don't have a regular blender or a food processor, my Nutribullet Pro does it all. (Shop Now)
Recommended Article: Peanut Butter Banana Smoothie
3. Measuring Cups and Spoons

I measure everything. I have multiple sets of measuring cups and spoons just because I measure sooo much on a day to day basis. (Ain't nobody got time for that many dishes)
One of the most powerful images I have seen involved a tablespoon of peanut butter. Peanut butter has become one of my favorite foods during my weight loss journey so this image really surprised me!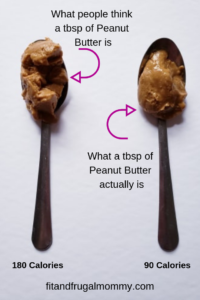 It's so easy to guess what an accurate food measurement is and end up packing on a bunch of extra calories we didn't plan for. This is why I measure everything. As much as I love peanut butter, I'll pass on the extra 90 calories. That could go to wine later 😉
It's so easy to guess what an accurate food measurement is and end up packing on a bunch of calories we didn't plan for. Save the calories for wine!
Click To Tweet
Need another set of measuring cups and spoons? I highly recommend these ones. They're low cost and nice looking. (Shop Now)
4. Food Scale

So I am sure you've heard of people using a food scale to weigh their food. I personally find this tedious and annoying so I don't do it as often as measuring with cups and measuring spoons. If it's tedious and annoying why are you recommending it to us? Well, I am glad you asked.
There came a time in my weight loss journey where I plateaued. I was trying new pasta recipes specifically and I had a really hard time gauging what 85 grams of pasta was. Do you know what 85 grams of pasta is? If you do, please come over and show me because I had absolutely no idea.
This is when I realized that I needed a food scale. If I was going to be this serious about my peanut butter portion sizes, I needed to apply the same practice to pasta servings. The best thing about using a food scale was I realized I could actually have more pasta than what I originally thought. 85 grams of dry pasta turns out to a surprisingly large serving of cooked pasta. (Yay, the carbaholic in me)
Don't have a food scale? You can grab one here. (Shop Now)
5. Spices
 Spices really are a non-negotiable in our kitchen. My husband is obsessed with his spice rack and is always experimenting with new flavours and how to make a dish better. Often times when I think I've perfected a dish for Fit and Frugal Mommy, my husband chimes in with the spice I may, or may not be missing.
I vividly remember having a spice-free dish at Swiss Chalet. Maybe it had some seasonings, but if it did, I couldn't taste them that's for sure! I was trying to eat a lower calorie option on the menu and opted for their white chicken breast with seasonal steamed vegetables. Well, that is exactly what it was. A plain chicken breast with somewhat cold, steamed vegetables. There was absolutely no flavour at all. It was undoubtedly the worst dining experience I have ever had. I will never serve an unseasoned dish to anyone and never eat one again.
We love our spice carousel. This one comes with 12 spices included for you to get you started! Considering an individual spice can cost between $5-$10, this spice carousel is a steal! (Shop Now)
Have a kitchen accessory you can't live without? Let me know in the comments below!