---
This post may contain affiliate text and photo links. For more information, please read our disclosure.
---
Sometimes, I am not in the mood to jump up and down. I am going to be honest with you, since having my son 7 months ago, my ability to do jumping jacks is still not up to par. Just recently, I had injured my foot and there was no way I could be running around and jumping. Does this mean I'm not able to complete my workouts? Not at all. I changed from my typical high intensity cardio workouts to these 5 free low impact workouts I could do at home. Even though there is no jumping, that absolutely does not mean there is no sweating.
Short on time? Pin it for later.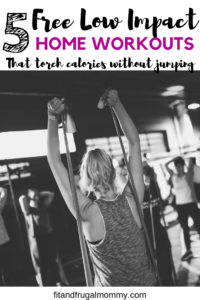 Note: Always consult your physician before starting a new exercise regime.
I absolutely love low impact workouts. I do participate in some hour long classes in the community that are very intense and typically involve a lot of jumping. Every once in a while, it's nice to change it up. I like to include at least one low impact workout each week where I don't have to jump to get my sweat on. Check out these 5 amazing low impact workouts!
1. Popsugar Fitness 30 Minute High Intensity, Low Impact Workout
This workout is my absolute favourite high intensity, low impact workout right now. They have excellent modifiers to take it slow, or advanced moves if you are ready to take it up a notch. The workout does use a resistance band and a hip/leg resistance band. Each of the moves can be performed with or without this equipment though so don't let that stop you!
The stretching in this workout does require a foam roller. At this time, I don't have one although I know there are some serious benefits to using them. It's on my 'must buy soon' list. Since I don't have a foam roller, I do my own basic stretching routine during the time they are using the foam roller in the workout. Basically, you can do this workout without any equipment at all, for free!
Recommended (but not necessary) Equipment for this Workout:
2. Popsugar Fitness Low Impact Cardio and Toning Workout
I absolutely loved this workout. While it seems incredibly easy as it starts off, I was definitely sweaty and feeling the burn by the end of it! A great addition to your workout collection if you're looking to get your sweat on without jumping around.
This workout does not require any equipment and also has excellent modifiers. I would also highly recommend this as a great beginner workout. Since it is low impact, it's gentle on the knees and joints and can help anyone get moving without the impact that jumping jacks or running can have on the joints.
3. HasFit's 30 Minute Low Impact Cardio Workout
I have just stumbled upon HasFit's collection of workouts and I must say, I am really impressed by the quality and variety! I absolutely love finding new, free workouts on YouTube that I can do from the comfort of my living room.
This is another great low impact option for beginners. While this workout does use a set of dumbbells, you can also use full, 500ml bottles of water in it's place if you don't have any dumbbells available to you.
Recommended (but not necessary) Equipment for this Workout:
4. Fitness Blender's Calorie Burning Low Impact Cardio Workout
I've shared Fitness Blender's workouts before because I absolute love the format of the workouts. Honestly, I am all about workout videos that have a timer that counts down when I will be done. Nothing keeps me more motivated than seeing that I only have 5 minutes to go!
This workout doesn't require any equipment. Optionally, you can use your yoga mat.
Recommended (but not necessary) Equipment for this Workout:R
5. Shelly Dose's 12 Minute Low Impact Walking Workout
I know first hand the magic that walking can do for you. Alongside Jillian Michaels' 30 Day Shred, walking helped me lost 85 pounds after having my daughter. As a Canadian, I also understand that I don't always want to go outside in the middle of winter to get my walk on. This quick and easy 12 minute walking workout will help you get your walk in right from your living room!
This workout doesn't require any equipment. Heck, it doesn't even require shoes!
You might also like:
Have a favourite at home workout? Let me know in the comments below!