---
This post may contain affiliate text and photo links. For more information, please read our disclosure.
---
I have spoken before about my love for Jillian Michaels' programs. It's no secret, the programs work if you commit to them. After having my daughter in 2013, Jillian Michaels 30 Day Shred was the first workout I did that included weights. As someone who had never used weights before or seriously considered weight training as something I needed in my life, Jillian Michaels 30 Day shred made it easy. It absolutely transformed my body and helped me lose 85 pounds. I have included my results doing this workout below.
The Pros
The Cost – As far as at home workouts go, Jillian Michaels 30 Day shred is incredibly affordable. In comparison to other at home workout programs that may require a subscription fee, this is a one time video that pays for itself in results. You can find it here.
Effective – As you will see with my results below, the program really works! It was an excellent way for me to introduce weight training into my workout regimen.
Quick – As a mom of two, the length of a workout is incredibly important to me. I find myself trying to sneak in my workout during my son's nap in the morning. Jillian Michaels 30 Day Shred will only cost you a measly 20 minutes out of your day, but the burn will last for hours!
The Cons
High Impact – Since Jillian promises results in only 30 days with 20 minute workouts, it's expected that these workouts are going to be intense and she delivers. Most of the workout moves also have a modifier to ease you into the program, however, if you have an injury or medical condition that stops you from high intensity workouts, this one is not for you.
Outdated – This is one of Jillian's older workout programs. She has a newer program that's very similar called Jillian Michaels Ripped in 30. It employs many of the same techniques seen in 30 Day Shred.
The Verdict
Ultimately, Jillian Michaels 30 Day Shred is a high intensity workout that produces results. It's super affordable and a great place to start incorporating weight training into your workout regimen if you're not already. It's also short enough I can sneak it in during nap time! Below are my results doing Jillian Michaels 30 Day Shred.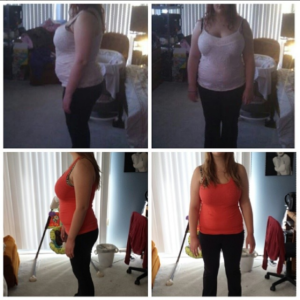 I will say that these results did not come from Jillian Michaels 30 Day Shred alone. I also tracked my calories using MyFitnessPal and improved my diet significantly. Over 5 months and doing the 30 day Shred twice, I was able to lose 85 pounds. I am now strong enough after having my son that I have just started doing Jillian Michaels 30 Day Shred again for my second postpartum fitness journey.
Have a Jillian Michaels workout you love? Comment below and let me know!
No copyright infringement is intended with the use of these images.