---
This post may contain affiliate text and photo links. For more information, please read our disclosure.
---
After having my son in June 2018, I was hesitant to start any workout program. I had foregone any exercise regimen I had before getting pregnant and indulged in every craving. It felt a lot like I was starting all over with this postpartum journey and to be completely honest, I basically was. I had gained the entirety of the 85 pounds I had lost back, with the exception of a measly 2 pounds. This is when I turned to Jillian Michaels Hot Body Healthy Mommy, the best home workout I found for postpartum moms.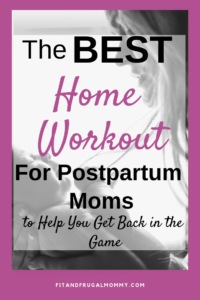 Now it is no secret that I am a super fan of Jillian Michaels. I first found her on NBC's The Biggest Loser and I have always loved her content. During my last postpartum journey, I used Jillian Michael's 30 Day Shred which helped me lose 85 pounds. (You can read about that and see my results here.) I was in the best shape of my life. The reason I did not immediately return to this workout after having my son is because after sitting down for 10 months, I was fairly certain I could not keep up with it. Hot Body Healthy Mommy seemed like a welcomed alternative to get back into the groove of things after I received my doctor's OK.
Recommended Article: The Best Free Weight Loss Tool (and How I lost 85lbs with it)
I believe it is incredibly important to speak with your physician and receive approval before beginning any postpartum workout regimen. I do not recommend beginning any workout regimen before you have the OK from your doctor to do so.
The Pros
Less Intense: Given that I have used other content from Jillian Michaels, I can confidently say that Hot Body Healthy Mommy is much gentler than her other content. She speaks with a much gentler tone and is considerate of new moms and their emotions.
Considerate of Postpartum Conditions: One of the biggest pros that I can't stress enough is that Jillian Michaels teamed up with Andrea Horwath to develop a program that is considerate of C-Section mamas and diastasis recti injuries. With your physician's OK, you should be able to perform this workout without further injury to those areas.
Affordable: The workout is available on Amazon for significantly less than other postpartum fitness programs.
Short Workouts: The workouts are 20 minute each and broken down into upper body, lower body and core segments. It was fairly easy for me to squeak the workout in while my son was napping.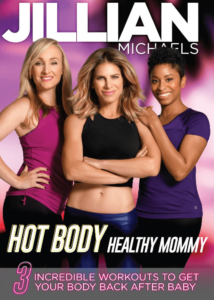 The Cons
Less Intense: For some this may be a pro to this workout, and others a con. If you were not like me and maintained your fitness level during your pregnancy and remained active, you may find this workout too easy for you. It is significantly less intense than Jillian's other content.
The Verdict
I wholeheartedly recommend Jillian Michael's Hot Body Healthy Mommy to moms beginning their postpartum journeys. It was an excellent way for me to reintroduce weight lifting and interval training after having my son. I especially enjoy that the workouts are quick, effective and broken into upper body, core and lower body segments.
Jillian Michaels Hot Body Healthy Mommy helped me lose the first 30 pounds of my second postpartum journey and has helped me regain the strength to return to other workouts that I love.
No copyright infringement is intended with the use of these images.