---
This post may contain affiliate text and photo links. For more information, please read our disclosure.
---
Fall is here! For me, fall marks the beginning of warm, filling dinners cooked in the oven without the fear of my house overheating. Otherwise known as – meatloaf season. This healthy, gluten free stuffed meatloaf is one the whole family will enjoy!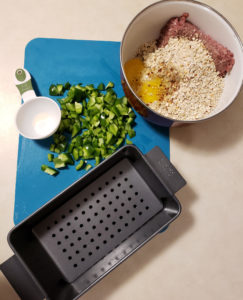 I absolutely love a good meatloaf. Nothing warms me up more than a delicious, hearty meal. A game changer for me and this recipe was our meatloaf pan. It sat in the cupboard for a long time before I finally used it, and WOW. What was once a semi-soggy loaf (which no one wants) was now drained of the grease in the bottom of the pan. As a meatloaf lover and someone who is looking out for their weight, I love this pan. It also makes the meatloaf easier to serve! Never in my young life could you have convinced me that I would get excited about meatloaf pans.. but here we are..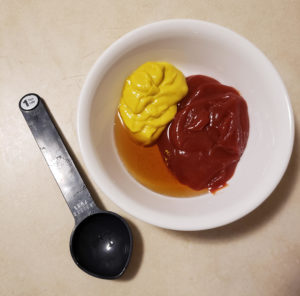 I stuff this meatloaf with light goat cheese for an extra flavor burst. Stuffing the meatloaf with goat cheese is entirely optional and I have made this recipe plenty of times without it. I will say, that I used to be unsure of goat cheese, or any cheese that wasn't regular. Goat cheese provides an awesome cheese flavor using significantly less than a cheddar counterpart. Less cheese = less calories, but still, there is cheese!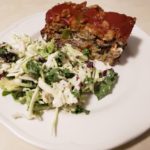 Healthy Gluten Free Stuffed Meatloaf
A delicious gluten free meatloaf stuffed with goat cheese.
Total Time
1
hour
20
minutes
Ingredients
1

lb

extra lean ground beef

1

medium

green pepper

chopped

1

medium

onion

chopped

1

large

egg

1

cup

oats

I use Quaker One-Minute Oats

1/2

cup

almond milk

1

tsp

garlic salt

1

tsp

onion powder

1

tsp

salt

1

tsp

pepper

4

tbsp

light goat cheese

optional
Sauce
1

tbsp

pure maple syrup

2

tbsp

mustard

1/3

cup

Ketchup
Instructions
Preheat the oven to 350 degrees.

Put the ground beef, chopped green pepper, chopped onion, oats, egg, almond milk and spices in a bowl. Mix contents together.

In a separate bowl, mix the mustard, maple syrup and ketchup.

Take half of the meat mixture and pack it into the meatloaf pan.

Take the light goat cheese and sprinkle it in the middle of the packed meat mixture layer.

Take the remaining meat mixture and pack it on top of the goat cheese/bottom meat mixture layer.

Spread the meatloaf sauce on top of the meatloaf.
Recipe Notes
If you are not stuffing the meatloaf with goat cheese, pack the entire meat mixture in the pan once it's been mixed, and then spread the sauce on top of the meatloaf.