---
This post may contain affiliate text and photo links. For more information, please read our disclosure.
---
4 WW Freestyle Points | 293 Calories
I have never been someone who would choose a stir fry at a restaurant or would even think of stir fry as a dinner. When I created this quick and easy ground chicken stir fry the first time, I even looked at it questionably. I wasn't sure I was going to like this meal but I was trying to keep an open mind. For the sake of my fitness journey and expanding my pallet, I decided I would at least try it.
Short on time? Pin it for later.
Creating the sauce was easy enough. I now have rice vinegar on hand ever since I explored making Pad Thai at home, which quickly became a family favorite. I was hesitant at first to purchase an item I thought I would only use in one recipe, but I have found it has a variety of uses in multiple recipes.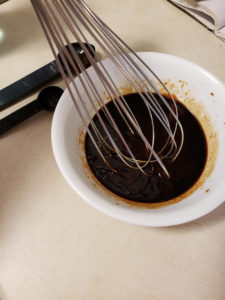 What surprised me the most the first time I served this recipe at our table was not only how much my husband liked it, and he is notorious for complaining about food that tastes "plain", but how much my daughter enjoyed it. She is someone who strongly dislikes foods with strange and abnormal textures. She puts up a stink at any dinner that doesn't fit what she has deemed "normal looking". Every time I have served this up though, she's ate everything on her plate! I also love making this dish so I have leftovers for work the next few days.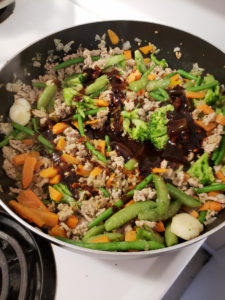 If you're looking for a low carb option, serve the stir fry mixture over cauliflower rice and swap out the sugar for an erythritol blend. It's absolutely delicious!
See the recipe below. I hope you enjoy it as much as we do!
You might also like: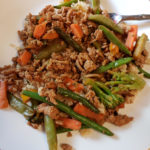 Quick & Easy Ground Chicken Stir Fry
A quick, easy and delicious ground chicken stir fry.
Ingredients
2

tsp

coconut oil

1

lb

ground chicken

3

cloves

garlic

chopped

1

medium

onion

chopped

1

package

frozen vegetables

2

cup

brown rice
Stir Fry Sauce
4

tbsp

ketchup

1

tsp

sugar

2

tsp

rice vinegar

3

tbsp

low sodium soy sauce
Instructions
Stir Fry Sauce
Mix in a bowl the rice vinegar, low sodium soy sauce, sugar and ketchup.
Stir Fry
Cook the brown rice according to it's instructions.

In a pan on medium heat, add the coconut oil.

Add the ground chicken to the pan and cook until brown. While cooking the ground chicken, add the onion and garlic.

Once the ground chicken has been browned, add the frozen vegetables. Cook until heated through.

Pour the stir fry sauce over the ground chicken and vegetables. Stir until the ground chicken and vegetables are evenly coated.

Serve over whole wheat rice or cauliflower rice.
Recipe Notes
Nutritional Information
4 WW Freestyle Smartpoints | 293 Calories, Carbs 41.6g, Fat 6,3g, Protein 19.2g per serving
Notes
This recipe can easily substitute fresh vegetables for frozen vegetables. I am using frozen vegetables in this recipe because often times I have a bag of frozen vegetables in the freezer. They won't go bad and I don't have to worry about them being eaten in a certain time frame! To substitute fresh vegetables, cook in the pan in the same manner the frozen vegetables are, until they are tender.
I try to use a 'Thai Style' frozen vegetable, like Arctic Garden's Thai Style vegetable. I enjoy the flavor the most, but any frozen vegetable you have on hand will do.