---
This post may contain affiliate text and photo links. For more information, please read our disclosure.
---
I have often wondered myself, which is the best option for me? Should I workout at home or should I go to the nearest gym and sign up? During my fitness journey I have done both and I can honestly say that I don't think there is a right or wrong answer to this question. Ultimately, it's all about what you are looking for and what matters to you as an individual. When it comes to getting healthy, I don't believe there is a 'one size fits all'  method.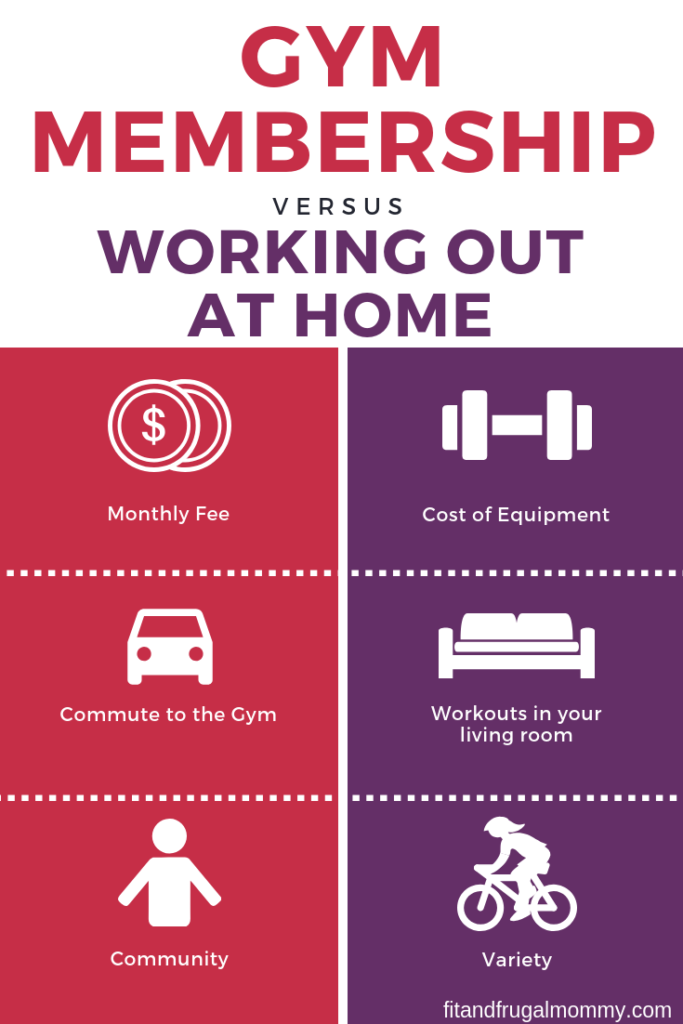 The Gym
Let's talk about a gym membership.
The Pros
Access to equipment – A gym will offer a variety of equipment and depending on the gym, fitness classes. Signing up for a gym membership gives you access to all of the equipment for a fraction of the cost that it would be to buy the equipment on your own.
Community –  Some gyms will create challenges for their members and offer a variety of fitness classes. This can be motivating and help keep you focused on your goals. It can also help you meet like minded individuals.
The Cons
Cost – Most gyms will typically charge a monthly fee to use their facility. When you sign up there may also be a variety of administration fees.
Commute – Going to the gym requires you to pack up all your gym clothes or any equipment you may need or want while working out (yoga mat, water bottle, towel) and factoring in the length of time it takes to go back and forth from the gym.
Working Out at Home
In contrast, let's now talk about working out at home.
The Pros
Free – Working out at home can be entirely free. There are plenty of YouTube workouts available for no cost – see Fitness Blender for some amazing workouts – and many workouts can be done using just your body weight. Still, the cost of stocking up a couple different dumbbells and a yoga mat will be significantly cheaper than a year's gym membership.
Variety – Of course, a gym can offer a variety of equipment and fitness classes. Working out at home however, does not have to be in the confines of your living room. A bike ride, a walk, a workout video or a fitness class in the neighborhood are all workouts that can be done outside of the gym. They say, variety is the spice of life.
The Cons
Lack of Motivation – When you've driven to the gym and you're ready to go, there is a strong likelihood you are going to complete some kind of workout. The same motivation and focus may be harder to achieve from the comfort of your couch.
Space – In order to workout at home, you will require some space – although not much – to complete a workout in your living room. If you want to add some equipment to your home, like an elliptical or treadmill, you're going to require a little more square footage.
The Verdict
Choosing whether or not working out at home or a gym membership is best for you is really a decision based on what you are looking for. In this case, one size does not fit all and what works for someone's health journey may not work for you.
What Works for Me
I can tell you that twice in my life I have signed up for a gym membership and twice in my life I have cancelled it. Each time I sign up I go with good intentions, that I will workout and I will justify the cost by attending X number of classes. I never do. I absolutely enjoyed the classes I attended at the most recent gym I signed up for. However, they were offered at times that didn't fit my lifestyle. I chose a gym that wasn't in my small home town. This required me to commute 20 minutes to the gym just to do the workout. This added more time I needed to be away from the kids and out of the house when my days were already full to the brim.
For me, I need something quick and dirty that gets the job done. I enjoy a walk around the neighborhood with my kids, a quick workout video or a local fitness class. I love variety, which is why I have sought out fitness classes offered in my community.
Fitness classes were my favourite part of the gym membership and I really like structured workouts. I was surprised to find a variety of classes offered for $5 or $8 a class. This allows me to drop in for a fitness class when I have the extra cash to do so or choose a free workout – like walking or Fitness Blender – when I'm trying to be frugal. I recommend looking into workouts in your neighborhood and supporting a local instructor. It's also a great way to meet people in your community with similar goals and interests.
Choosing whether or not to get a gym membership or workout at home is a personal decision. What works for someone else may not work best for you. It's best to think about what your goals are and then you can decide how to best achieve those goals – at home, or at the gym.