---
This post may contain affiliate text and photo links. For more information, please read our disclosure.
---
5 WW Freestyle Points | 195 Calories
For a very long time, I have been one of those people who will forgo breakfast for a little extra sleep. Usually, when that happens, I will just grab breakfast on the go. Not only is this expensive, the breakfast I love is high in calories and fat. My go to is a Tim Horton's four cheese bagel toasted with egg and cheese (hold the bacon for me!). It is sooooo good, but at a whopping 14 Weight Watchers Smartpoints or 448 calories, it's not helping me reach my goals at all. I set out to recreate my favourite take out breakfast and I believe I have. These two ingredient dough 3 cheese bagels are amazing!
Short on time? Pin it for later.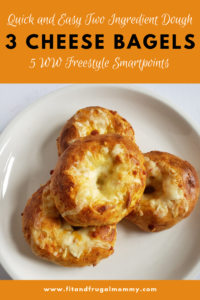 I've always seen two ingredient dough bagels floating around the internet. Honestly, two ingredient dough has been a life saver for me. As a lover of pizza and basically all carbs, two ingredient dough has allowed me to keep some of my favourite meals low in calories, sugar and Smartpoints!
Love two ingredient dough as much as I do? Check out these recipes:
I absolutely love making these two ingredient dough 3 cheese bagels ahead of time as well. They work perfect for my 0 point make-ahead breakfast sandwiches in place of English muffins when you're looking for something a little bit more.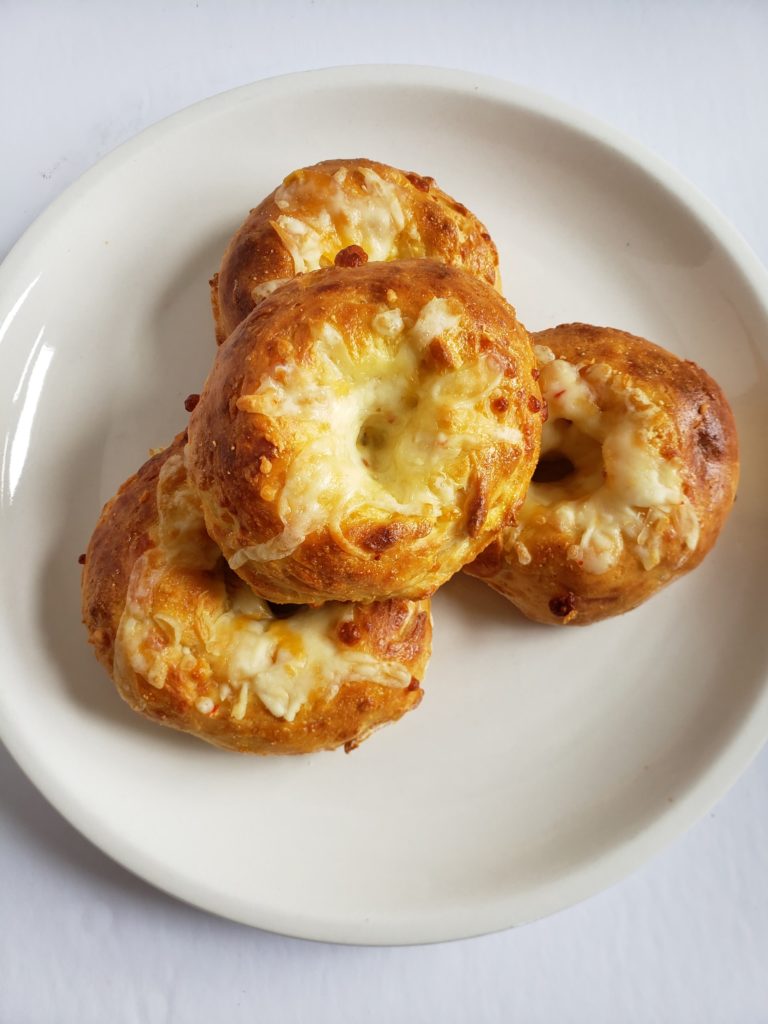 Since I have joined Weight Watchers, I have noticed a lot of people are worried about the 'yogurt flavour' in two ingredient dough. I get you. While a lot of people will say to use the 'Fage' brand of greek yogurt, that is not available in Canada.
In order to mask the greek yogurt flavour in two ingredient dough, I typically add spices and these two ingredient dough bagels are no different. To offset the greek yogurt flavour, I add 1/2 tsp of onion powder and it works perfectly.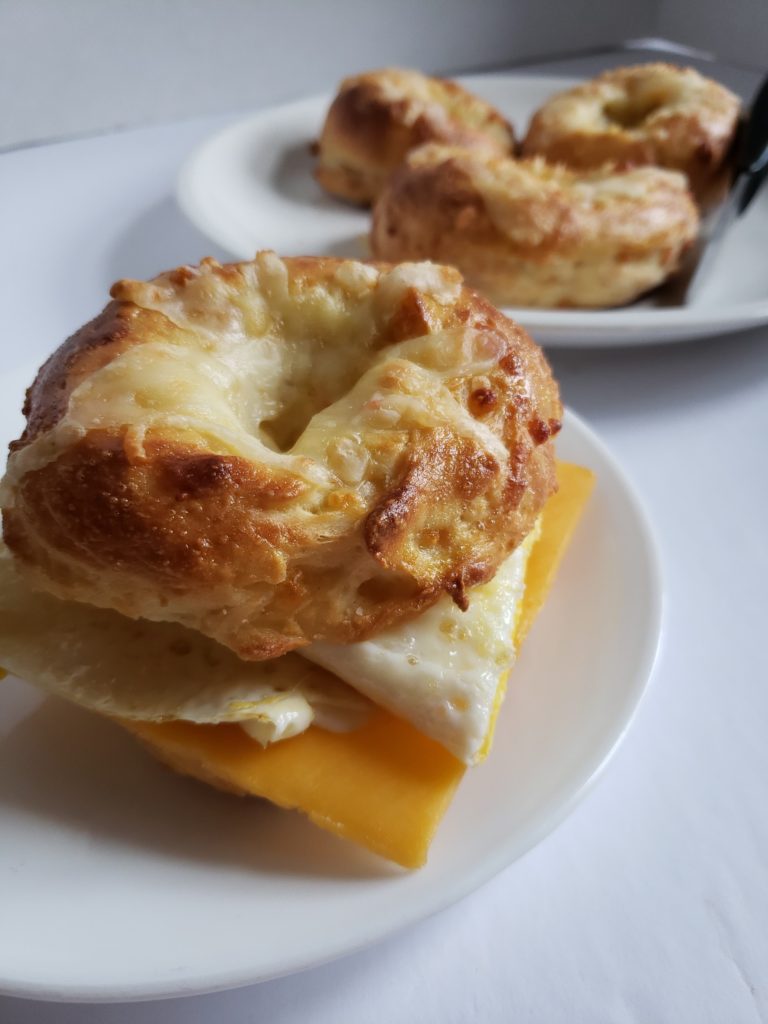 This recipe is probably one of the ones I am more proud of, because I have taken something that I love and is high in points and replicated it to something low in points and equally delicious. A typical Tim Horton's breakfast sandwich would run me 14 Smartpoints. With 2 eggs and a slice of light cheddar on these bagels, I have a 7 Smartpoint breakfast (or lunch)! Not only that, I am saving money too!
Recommended Tools for this recipe
Have a favourite breakfast recipe that's low in points? Let me know in the comments below!
Two Ingredient Dough 3 Cheese Bagels
A deliciously cheesy, easy to make bagel recipe!
Ingredients
1

cup

self rising flour

1/2

tsp

onion powder

1/4

tsp

salt

3/4

cup

plain greek yogurt

1/2

cup

low fat Tex Mex shredded 3 cheese blend
Toppings
1/3

cup

low fat Text Mex shredded 3 cheese blend
Instructions
Preheat the oven to 350 degrees.

Mix the self rising flour, the onion powder and the additional salt in a bowl.

Add 3/4 cup greek yogurt to the bowl and mix until dough starts to form. Finish mixing the dough together with your hands.

Once the dough is well mixed, mix in the 1/2 cup of shredded cheese. This takes a little bit of work to get all of the cheese into the mixture.

Dust a clean surface with some additional flour and separate the dough into four equal portions.

Roll each of the four portions of dough into a rope. Connect the ends of the rope and press together to create a bagel shape.

Place the bagels on a pan lined with parchment paper. Whisk the egg and brush over the surface of the bagels.

Bake for 23 minutes. Once baking is completed, remove the bagels from the oven and turn the oven to broil.

Sprinkle the 1/3 cup of cheese on the top of the 4 baked bagels. Place back in the oven for 2 minutes on broil to melt the cheese onto the bagel.

Allow cooling before consuming.
Recipe Notes
5 WW Smartpoints | 195 Calories, Carbs: 24.2g, Fat: 4.8g, Protein 13.1g per bagel.