---
This post may contain affiliate text and photo links. For more information, please read our disclosure.
---
0 WW Freestyle Points | 166 Calories
I am forever searching for anything that will save time, save money or save calories. These make-ahead breakfast sandwiches do all three, which makes them a win, win, win in my books!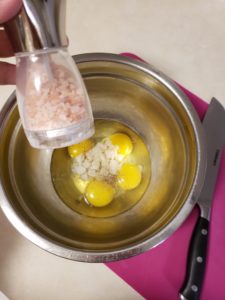 I struggle to get a good breakfast in on busy mornings. When I need to pack up my two kids and race out the door to make the school bus, all bets are off. Both my husband and I appreciate having these quick and easy breakfast sandwiches to grab and go. I like to season them with Pink Himalayan salt. Pink Himalayan salt has a host of health benefits that make it better for you than the average table salt.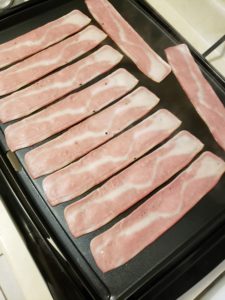 Normally, I am one of those people who does not like bacon. I will typically make my breakfast sandwiches without bacon or any meat. While I like them this way, I was really surprised by how good this chicken bacon was. I think my pregnancy with my son changed my taste buds a bit! Either way, these make-ahead breakfast sandwiches are great with or without the bacon! I use my flat grill to whip it up because I can do more at a time (saving more time, winning!). I absolutely love it for cooking pancakes, eggs, bacon and we've even cooked steaks on this bad boy a few times. It's such a great tool to have in the kitchen.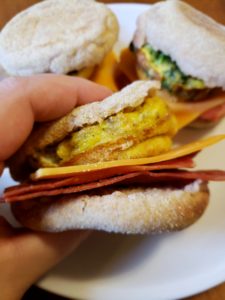 What I love about these make-ahead breakfast sandwiches is the variety with which they can be made. The last batch I made had a few with spinach for some added nutrients and a few without. I even made some with egg whites only which were equally delicious!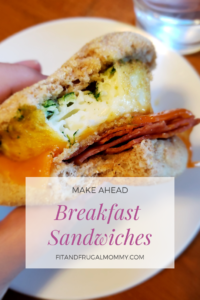 What makes me more excited than anything is that the egg muffins in this recipe are 0 Weight Watchers Freestyle Smartpoints! Yes! The only points are for how you assemble the sandwich. Winning!
Have a quick and easy breakfast that helps you survive busy mornings? Let me know in the comments below!
You might also like: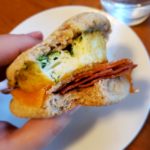 Make-Ahead Breakfast Sandwiches
A quick and easy solution to hectic mornings!
Ingredients
4

large

eggs

1

tsp

Pink Himalayan salt

pepper

to taste

1

cup

spinach

chopped (optional)

1/2

cup

onion

chopped
Instructions
Preheat the oven to 350 degrees.

In a bowl, add 4 eggs, salt, pepper, chopped onion and optionally, chopped spinach. Whisk together.

Pour mixture into a muffin tray. It should fill approximately 4, 3/4 of the way full depending on how much spinach was added.

Bake in the oven at 350 for 15 minutes. Let cool.

Optional: Place egg patties on whole wheat english muffins with cheese, chicken or turkey bacon. Place in fridge for busy mornings!
Recipe Notes
Nutritional Information
0 WW Freestyle Smartpoints | 83 Calories, Carbs 3g, Fat 5g, Protein 7g per egg muffin
Notes
The nutritional information does not include the english muffins, cheese or bacon.
I keep these breakfast sandwiches in my fridge for 4 days. When taken out of the fridge in the morning, I like to microwave them for 45 seconds to melt the cheese.
If making the breakfast sandwich with only egg whites, use 1/4 cup egg whites for each egg.