5 WW Freestyle Points | 307 Calories
Breakfast is by far my favourite meal of the day. There are so many breakfast possibilities that are low calorie and delicious, I could eat breakfast for every meal. I am also obsessed with eggs. Not only are they an inexpensive source of protein, they are loaded with nutrients. This cheesy bacon scramble is a great way to start your day off without the carbs.
Short on time? Pin it for later.
Truthfully, I have never been much of a meat eater. While I do eat meat, it's not something I have or crave all day every day. I like to grab my protein from vegan protein powders and eggs, among other things.
Recommended Article: The Best Vegan Protein Powders
Eggs are incredibly nutritious, containing: Vitamin A, Folate, Vitamin B5, Vitamin B12, Vitamin B2, Phosphorus, Selenium and more! I think that eggs have received a bad rap for being high in cholesterol. While that is true, eating foods that are high in cholesterol doesn't necessarily translate to a higher blood cholesterol. You can check out this study to verify that. (Fact checking, always important in my books!) It is important to note that there are few people – labelled hyper-responders – that cholesterol in eggs can raise levels of cholesterol found in the blood.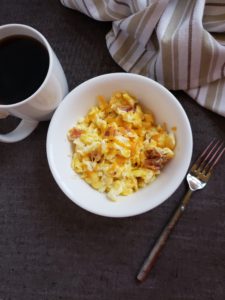 If you're convinced about eggs – or maybe you didn't need to be – this cheesy bacon scramble is a quick must try!
This recipe uses ready-made bacon. I buy the Kirkland brand from Costco. Regular bacon can be used. I would recommend cooking it in advance and storing it in the fridge so you can whip up this easy cheesy bacon scramble quickly in the morning. If you're using regular bacon, be sure to cook the bacon according to the package's instructions prior to making the scramble.
Looking for some more quick and easy breakfasts? Check out 4 Fast Breakfasts under 400 calories.
Cheesy Bacon Scramble
A quick and easy breakfast recipe that's low in carbs and deliciously cheesy.
Ingredients
2

large

eggs

2

egg whites

1/4

cup

light shredded cheddar

1

slice

ready-made bacon

salt

to taste

pepper

to taste
Instructions
In a bowl, crack two whole eggs and two egg whites. Whisk together with a fork.

Chop one slice of ready-made bacon. Add to the bowl and mix in.

Add salt and pepper as desired.

Spray a pan and heat to medium. Pour egg mixture into the pan.

When the edges of the egg begin to turn white/solid in colour, scramble the eggs in the pan with the flipper.

When almost completely cooked, add the 1/4 cup of shredded cheddar. Mix in the eggs until melted.
Recipe Notes
Nutritional Information
5 WW Freestyle Smartpoints | 307 Calories, Carbs 2.7g, Fat 20.1g, Protein 30.3g
Notes
If using regular bacon, cook according to package instructions.