---
This post may contain affiliate text and photo links. For more information, please read our disclosure.
---
When I first started my health and wellness journey, I used to believe that eating healthy was an expensive endeavor. I always thought that my grocery bill would sky rocket trying to buy salmon and asparagus. Over the past 5 years, I have found that's not the case. I've learned how to save money on groceries and household items with just a few minutes of extra prep when creating my grocery list. Best of all, I don't even have to leave my couch.
Short on time? Pin it for later.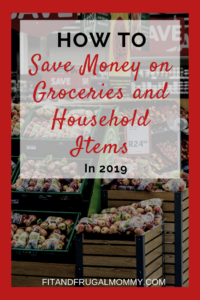 1. Checkout 51
Have you heard of Checkout 51? Checkout 51 is an amazing FREE tool to save money on your grocery bill. Each week, Checkout 51 releases new rebates for items you're probably already purchasing. They include:
Groceries
Household items
Beer, Wine and Spirits
Pet care
Baby items
Medicine and Health
And More!
How does it work?
Getting paid to buy groceries is easy with Checkout 51. All you have to do is view your weekly deals on the app or website. If you've purchased – or plan to purchase – one or more of the items available in your deals, upload your receipt after you've paid for the items and earn cash back. You'll receive a check once you reach a $20 balance. It's that simple.
Forgot to plan your list ahead of time to maximize your savings? Check out your deals on Checkout 51 anyways! Most of the time I am already buying products that I can earn cash back with.
Use this link to get started with Checkout 51 today from Fit and Frugal Mommy!
2. Flipp and Price Matching
Flipp is an awesome free app that I use every week when I create my grocery list. It has all of my local flyers readily available at my finger tips so I can easily check what's on sale and plan my weekly dinners based on this week's sales. (This is a huge money saving factor for me!) If chicken breast is on sale this week, we will likely have two or more meals featuring chicken breast. If it's an amazing deal, I will even stock up on extra, until the sale cycle resets and it goes on sale again.
Even better than having all the flyers neatly on my phone to easily browse? Flipp has a search option! I have been known to go grocery shopping, pick up an item that's not on sale and search Flipp for it. Flipp will then provide me with all of the places that item is featured on sale – if it is – and I will price match it at the check out. The store you are shopping at must support price matching in order for this to work.
What is price matching?
Price matching is a feature of some stores to offer the same advertised price as their competitor. Walmart is a known store that supports price matching. Often times, you can show the cashier the flyer sale price and Walmart will match that price. Be sure to check your local store to see which competitors they will price match.
3. Amazon Subscribe & Save
I love Amazon. If I can stay home and buy groceries from my couch without ever having to step into a crowded store, I am all about it. What has surprised me is how many people don't know about Amazon's service: Subscribe & Save. Especially mamas, because Amazon provides some seriously steep discounts on diapers when you sign up to subscribe and save.
What is Amazon Subscribe & Save?
Amazon Subscribe & Save is a service through Amazon Prime that allows you to schedule monthly deliveries of items you purchase on a regular basis. As an example, I typically purchase deodorant, shampoo, conditioner, among other items on a monthly basis. I set these items up to be delivered every month. If I have 5 items arriving every month, I save 15% on all of them. I also subscribe to have diapers delivered every month and thanks to Amazon family, I save 20% on diapers every month. I love that I don't even have to worry about the essentials. They're delivered to my door step every month and I save money on them.
Click here to get your 30 day Free trial of Amazon Prime from Fit and Frugal Mommy!
4. Points Programs
Points programs allow the user to earn points on promoted products in stores or through credit card purchases. Many stores will offer a free card where you can earn points for purchasing promoted items. In Canada, we have PC Optimum (among others) which can earn points at grocery stores, gas stations and more. Using the free card, I am often able to earn $20 in free groceries per month without trying to earn additional points. When I plan my grocery shop around the week's points promotions, I can earn much more.
Usually, points programs also have an associated credit card that will earn points as well. When using a points credit card for all of your day-to-day purchases, points can add up quickly and lead to free groceries! This allows the user to purchase anything and continue to earn points, rather than just promoted items.
5. Stock up on Sale Items
One of the most useful things I have learned by watching the flyers is that most stores have a 'sale cycle'. This means that if ground beef is on sale this week for a great price, it will come back on sale within the next 3-4 weeks. When an item is on sale for a really great price, I will stock up enough to cover more than just my meals for the week. This helps me in several ways:
I generally have a pantry and freezer full of the basic items I need to whip up a meal.
I save money not having to buy the item when it's full price.
Once I have a stockpile of the sale items, it reduces my overall grocery bill by not needing to buy everything to assemble a meal at once.
While this process does require a little extra spending to grab the extra sale items in the beginning, I have found it is well worth it. We frequently have what I call 'free' dinners. A 'free' dinner is one that I was able to make without spending any of the weekly grocery budget and that feels a lot like winning to me.
Have an awesome money saving trick for your grocery bill? Comment below and let me know!