---
This post may contain affiliate text and photo links. For more information, please read our disclosure.
---
When I first decided that I would try eliminating some carbs in my day, zucchini noodles seemed like the obvious choice. I love pasta, but I am not a fan of the calories or the bloat that comes with it. I find that when I eat a low carb dinner, I feel leaner and overall my body feels better the following morning. Through trial and error, I learned how to prepare and cook zucchini noodles several ways.
Short on time? Pin it for later.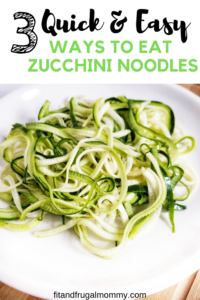 Prepping the Zucchini
In order to turn the zucchini into noodles, I first wash the zucchini and cut off both ends. I then use a zucchini spiralizer to quickly turn the zucchini into noodles.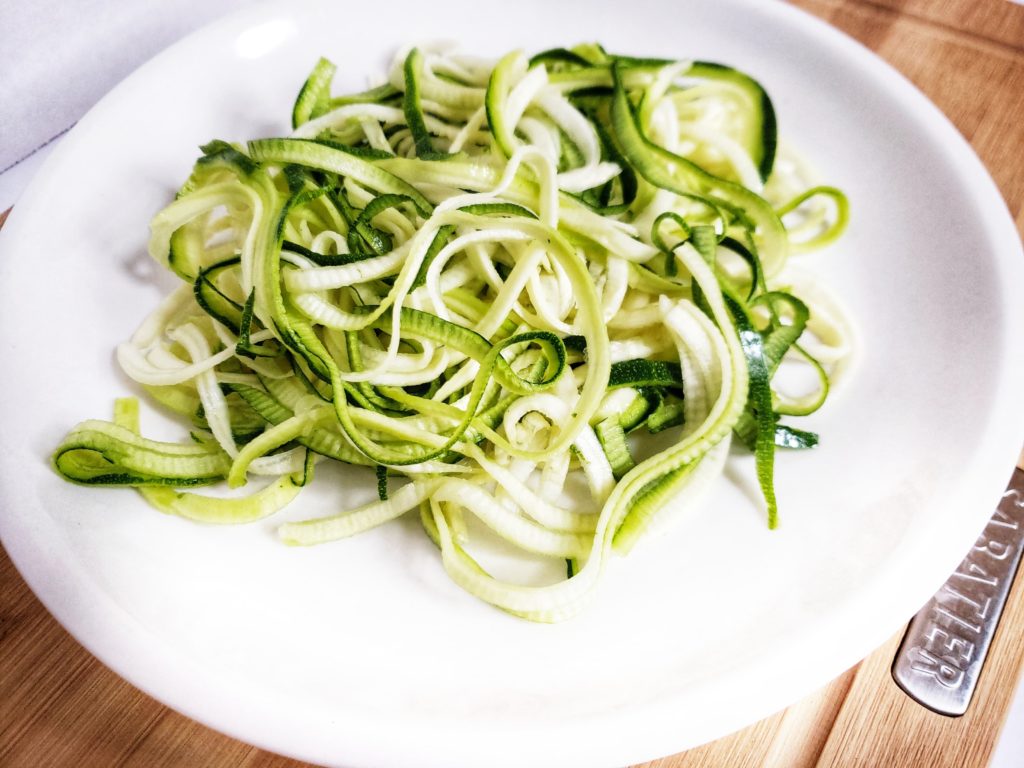 When I am only turning one zucchini into noodles for myself, I will typically use a spiralizer like this one. I prefer to quickly, manually spiralize the zucchini when I only have one because it's faster for me.
When I am doing multiple zucchinis and/or other vegetables, I will use the 5-Blade Spiralizer shown below. (Shop Spiralizers Now)
3 Ways to Eat Zucchini Noodles
Now that the noodles are prepped, I've eaten them three different ways.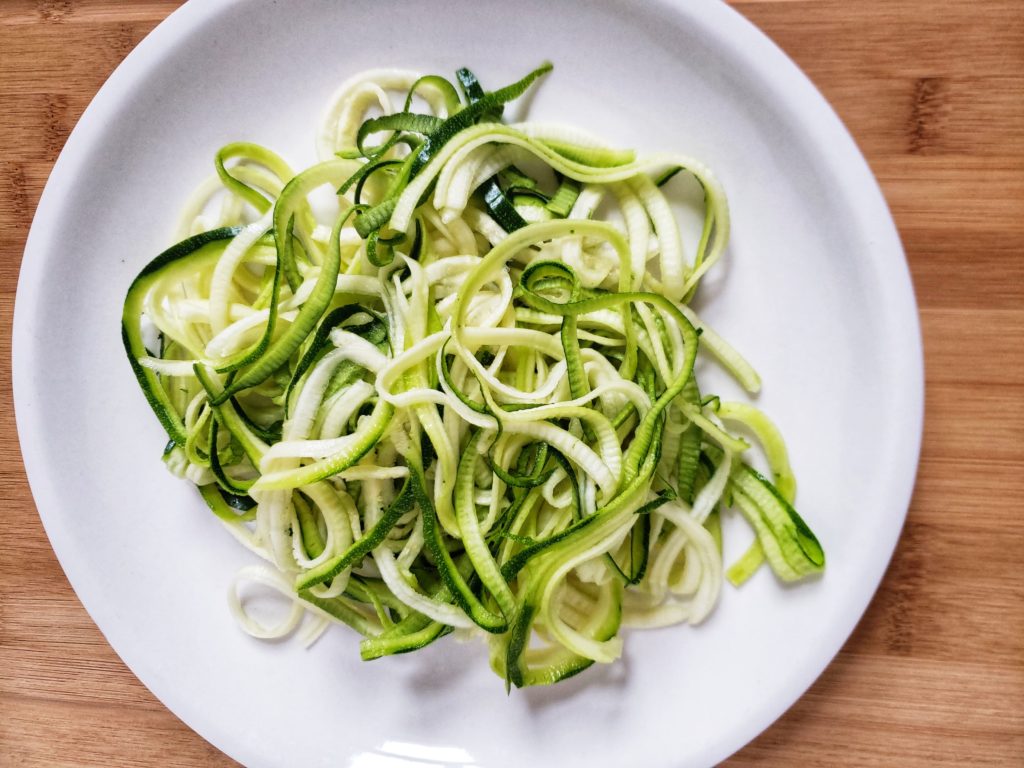 1. Raw
When I first started using zucchini noodles in place of pasta, I almost exclusively ate them raw. While this worked well and served as a great introduction for me, I would recommend eating raw zucchini noodles when they are added to a salad. I found that eating raw zucchini noodles made it more noticeable that I was not eating pasta and cooled my sauce down more than the sauce warmed the zucchini noodles. In a pinch, I would eat raw zucchini as pasta again, but remain that this is best among other raw vegetables.
2. Steamed
To combat the noticeably crunchy texture of the zucchini noodles and the lack of warmth, I would steam the zucchini noodles. Boiling the zucchini too long can make them mushy. Boiling vegetables has also been known to cause a loss of nutrients as minerals and nutrients can dissolve into the water while cooking.
To steam the zucchini:
Add 1/2 inch of water to the bottom of a sauce pan
Fill your steamer basket with the zucchini noodles and place in the sauce pan
Bring the water to boil, cover and steam briefly for 1-2 minutes.
I enjoy steaming the zucchini because it adds the warmth and a closer 'pasta' texture to the dish without adding any calories.
3. Sauteed in Garlic and Butter
I sauteed my zucchini noodles in garlic and butter for the first time last night and might I say, I don't think I can ever return to steamed zucchini. While I do enjoy steamed zucchini, if I am giving up pasta I think I have enough calories left for butter.
To cook the zucchini:
Heat 1 tsp of salted butter and 1 tsp minced garlic in a pan on medium heat
Once butter is melted, add the zucchini noodles to the pan, stirring occasionally
Sprinkle the zucchini with garlic salt and cook until the zoodles are soft, approximately 6-9 minutes depending on the size of the zucchini
I am a huge fan of garlic and sauteing the zucchini noodles brought the whole dish to the next level. It beautifully accompanied the spaghetti sauce we made.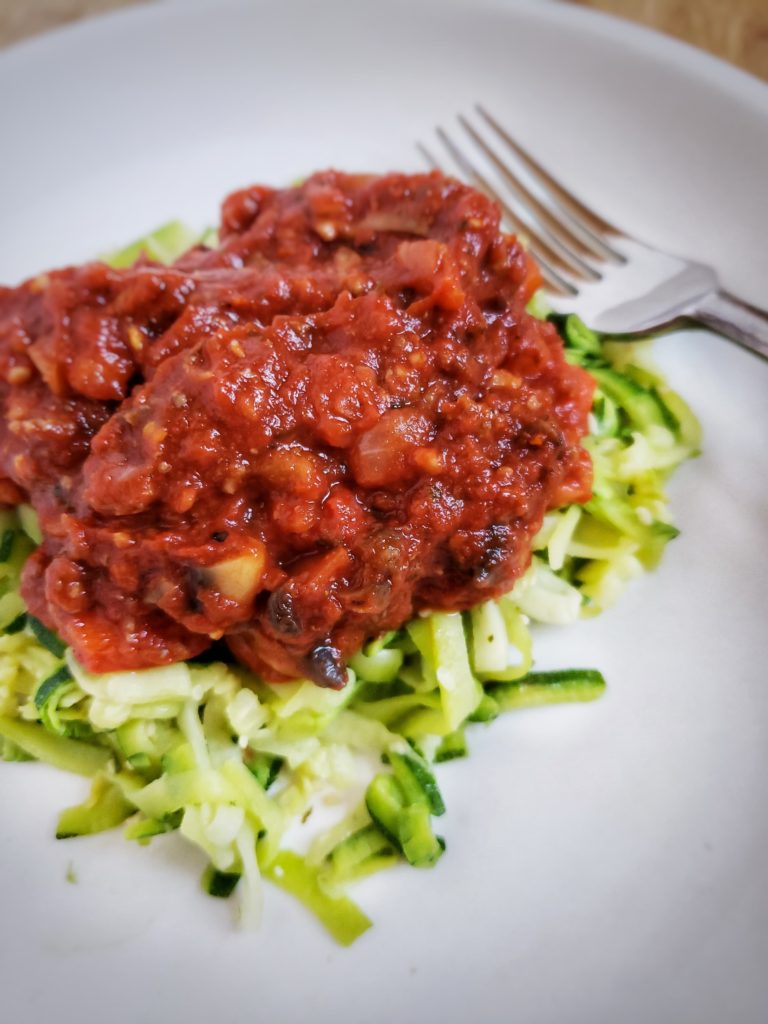 You might also like:
Have a favourite way to prepare your zucchini noodles? Let me know in the comments below!