3 WW Freestyle Points | 140 Calories
When I started my fitness journey after having my daughter oatmeal was my go to breakfast. If you're breastfeeding, oatmeal is known to increase your milk supply. Oatmeal is also known to help regulate blood sugar. I was surprised when I started looking for egg white oatmeal to increase my protein at how many ingredients all of the recipes had. I just wanted something simple, oatmeal and egg whites, no extras. So now I bring to you, "How to Make Egg White Oatmeal with only 3 ingredients".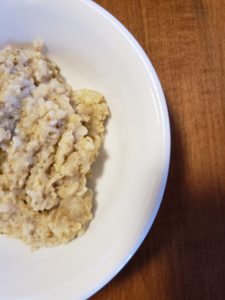 Now you might be saying, 3 ingredients? You definitely just said all you wanted was egg whites and oatmeal. Well, if you caught that, you are absolutely right. The third ingredient in this recipe is water.
After I've whipped up my egg white oatmeal, I typically use a tbsp of pure maple syrup to sweeten it, although this is not necessary. My favorite way to dress these oats is my Almond Butter and Banana Oatmeal recipe. I could eat them every day!
How do you dress your oats? Leave a comment below!
3 Ingredient Egg White Oatmeal
An easy egg white oatmeal using only 3 ingredients.
Ingredients
1/3

cup

oats

1/4

cup

egg whites

2/3

cup

hot water
Instructions
Put oats, egg whites and hot water in a bowl.

Microwave for 3 minutes, 30 seconds, stirring halfway through this time.
Recipe Notes
Nutritional Information
3 WW Freestyle Smartpoints | 140 Calories, Carbs 20g, Fat 2g, Protein 11g
Notes
I have also made this recipe with 1/2 cup egg whites and 1/3 cup hot water. This increases the protein and has a much stronger egg flavor. If you are looking for more protein and prepare the oats this way, microwave for 3 minutes only, stirring halfway through the time.
With a higher powered microwave, reduce cooking time by one minute. Ensure the oats look fluffy and not wet. If they look wet, cook for another 30 seconds.