Have you completed the steps on how to start your own blog? Excellent! You're now ready for what I would like to call 'Phase 2'. Phase 2 was when I downloaded all of the best plugins to make my blog successful. These plugins are intended to help you write better articles and monitor and grow your audience. Let's check them out.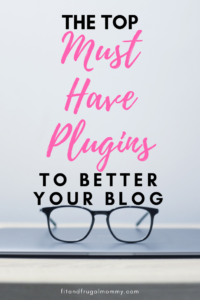 One of the most important things for the success of your blog is that you have an audience. This seems obvious right? The question is how do we get the audience to come to your blog and read the content you've created. Yoast SEO is an amazing plugin that helps with blog post writing. It ensures that what you are writing is written in a way that it will be best recognized by a search engine (SEO = Search Engine Optimization) and it helps with the overall readability of every blog post you create. Better to load this plugin into your blog early rather than having to go through and edit all of your previous blog posts.
Monster Insights is a plugin that connects and interprets your Google Analytics. This plugin allows you to see where your audience is coming from, how many visitors you're getting and how long their spending on your website. It also allows you to see your most popular posts!
Not sure how to get started with Google Analytics? Check out this awesome tutorial How to Install Google Analytics in WordPress for Beginners.
One of the best ways to get traffic to your site in the early days is through social media. Social Warfare provides a social media bar that allows your readers to quickly and easily share your content on their platform of choice. It also shows you and your readers how many times it's been shared, which can give you some insight into which posts are performing well. It also provides an awesome popular post widget based on number of shares.
One of the most common pieces of advice I saw while doing blog research was to focus on your mailing list as soon as you start your blog. This is one of the most important avenues of website traffic. If someone is signing up for your newsletter, they must enjoy what you have to say and want to keep up with your content. That's awesome! MailChimp is a free service that allows you to create drag and drop newsletters and set up automated emails easily! I was able to set up my 'Welcome' email quickly and without any headache.
Bonus Plugin: MailMunch gives you forms like the one below, which you can drop into posts to increase your subscribers for free. I've created two – one for my health/wellness readers and one for people interested in blogging tips.
If you've done your research you know that Pinterest can drive major traffic to your blog when done correctly. The Pinterest PinIt Button makes it that much easier for your users to pin your content and I'm all about making things easier for my readers!
Sumo is an excellent plugin to add to your arsenal to assist in growing your mailing list. That neat little bar at the top of my website that asks you to join my Fit and Frugal Mommy family? That's all Sumo. They have a free version too, which is awesome when you're just getting started. Sumo also integrates nicely with MailChimp, so you'll have those 'Welcome' emails going out in no time!
The Ad Inserter plugin will help monetize your blog. It allows you to easily add Google Adsense ads where you want them on your blog and it also allows you to add Amazon Associate's OneTag code to your blog. I highly recommend this plugin for preparing to monetize your blog.
Wordfence is the #1 rated WordPress security plugin. When launching a blog, you want to make sure that it's secure and can't be hacked! This plugin is on my non-negotiable plugin list.
Have a plugin you can't live without? Let me know in the comments below!