---
This post may contain affiliate text and photo links. For more information, please read our disclosure.
---
3 WW Freestyle Points | 153 Calories
If I have been consistent at all since starting this blog, it's that I have a sweet tooth and that sweet tooth loves chocolate. I have seen black bean brownies before with sugar and butter or oil which doesn't make them very point friendly. These black bean brownies are only 3 Weight Watchers Freestyle smartpoints and so delicious.
Short on time? Pin it for later.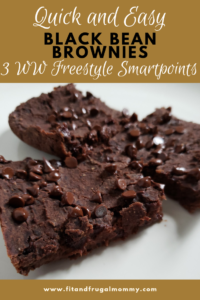 Just like my 1 WW Smartpoint Chocolate Ice Cream, this recipe uses a Monkfruit/Erythritol blend to sweeten the brownies. I have seen a ton of posts in my Weight Watchers Facebook groups asking how people sweeten their coffee, what sweet treats they have, etc. I really don't think I could have as many treats or have my coffee as sweet if it wasn't for my Monkfruit/Erythritol blend. It has truly changed my life.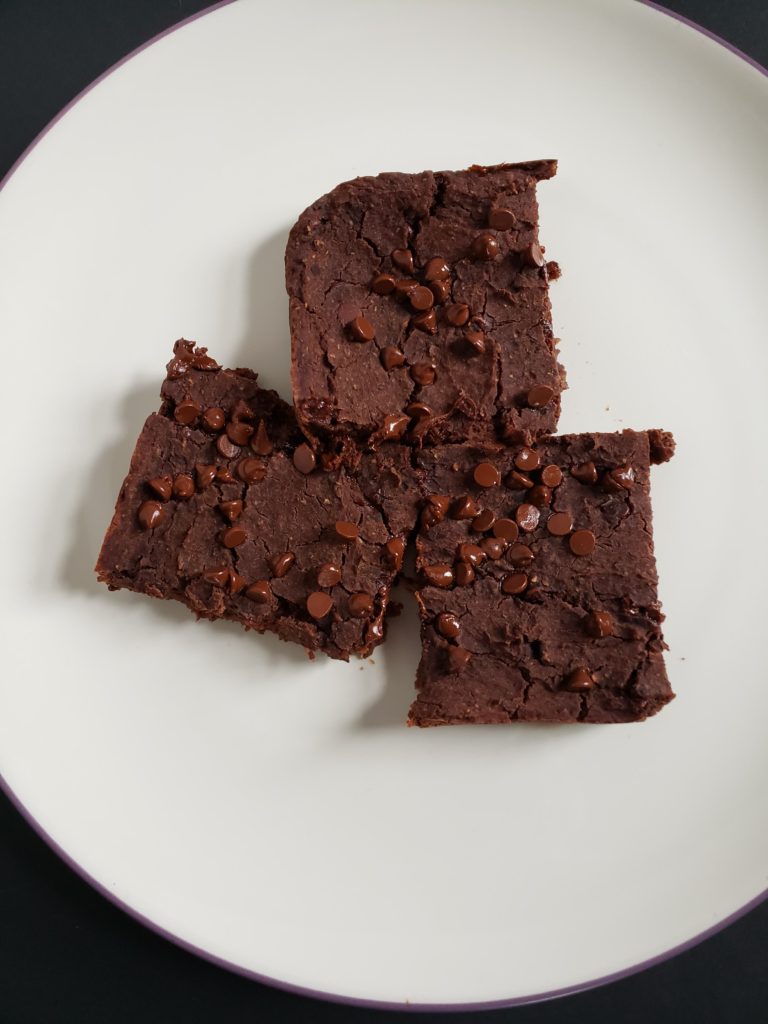 What is Erythritol?
I am so glad you asked because this comes up a lot! I remember telling a member of my family who regularly uses Stevia about it. They instantly told me that they don't want an artificial sweetener which is why they use Stevia. This is when I realized that not a lot of people know about Erythritol and they are missing out.
Erythritol is an all natural, ZERO carbs, ZERO sugar and ZERO calorie replacement for sugar. It's made from sugar alcohols that naturally occur when fermenting a type of corn or wheat starch. Now I don't want to get into all of the science behind it, but if you're unsure about it, I highly recommend you check out this article by Healthline. Healthline uses science based evidence to review Erythritol and whether or not it's safe to consume and for your body.
The basic points from Healthline's article are:
Erythritol contains 70% of the sweetness of table sugar, while only having 6% of the calories
After long term feeding of erythritol to animals, no serious side effects were observed
Erythritol is better for dental health
Erythritol doesn't spike blood sugar or insulin levels like table sugar does
Some sugar alcohols can cause digestive upset in some users
I have been one to experience serious bloat and stomach upset after aspartame. Fortunately, I haven't had any issues since I began using a Monkfruit/Erythritol blend.
Where can I buy Erythritol?
One of the next most common questions I am asked when I tell someone about how amazing this natural sugar substitute has been for me, they ask me where to get it.
In Canada:
In the U.S:
Most grocery stores, Walmart
I exclusively use this brand for my coffee and baking. It's what I started with and it makes the perfect coffee every time!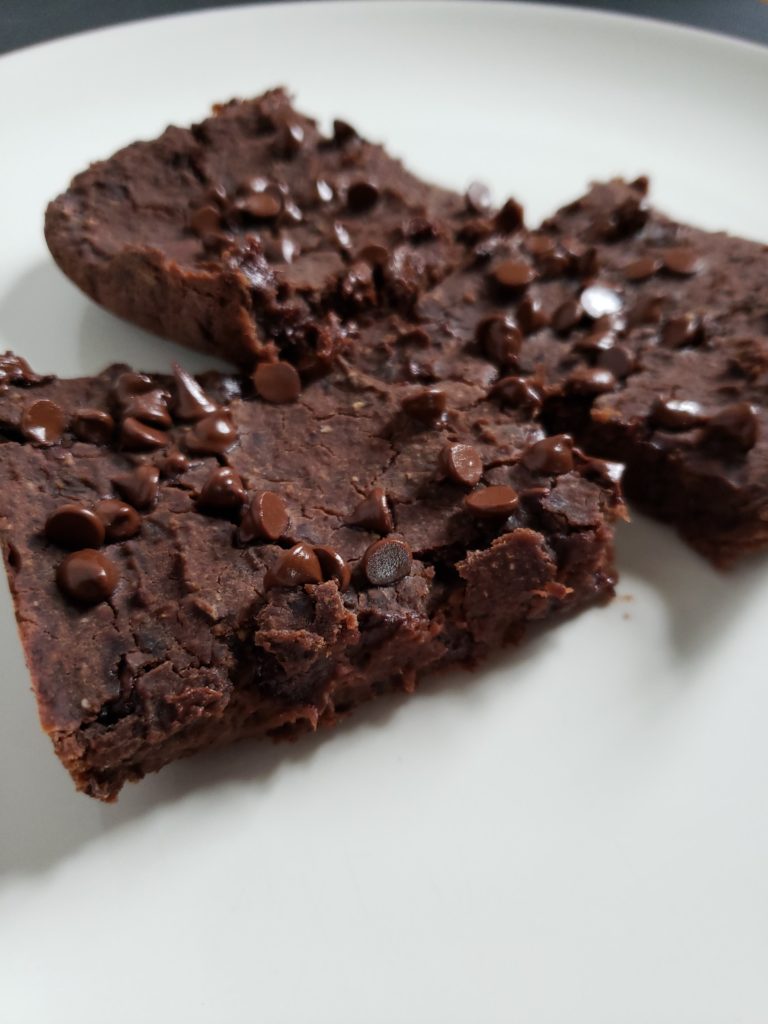 Other Recipes You Might Enjoy:
I was really skeptical when first trying black bean brownies, but truthfully I was so surprised at how delicious they were, even my 6 year old loves them!
Recommended Tools for This Recipe:
I have spoken before about how much I loveeee my Nutribullet blender for creating smoothies, pasta sauces and now these delicious brownies! I love it because it's less expensive than a food processor and in my opinion, does more! A food processor will also work great.
Have a favourite low point treat to curb your sweet tooth? Let me know in the comments below.
Black Bean Brownies
A deliciously low point, chocolate dessert that curbs your sweet tooth with the added benefits that come from black beans!
Ingredients
1

can

no salt added black beans

drained and rinsed

1/2

cup

quick oats

2

tbsp

unsweetened cocoa powder

1/2

tsp

baking powder

2

tsp

vanilla extract

3

tbsp

unsweetened apple sauce

1/4

cup

pure maple syrup

3

tbsp

Monkfruit/Erythritol blend

see notes

1/8

tsp

salt

1/2

cup

mini chocolate chips

dairy-free, if vegan
Instructions
Preheat the oven to 350 degrees.

In your Nutribullet blender or food processor, add the rinsed and drained black beans, oats, baking powder, maple syrup, apple sauce, salt, monkfruit/erythritol blend, vanilla extract and unsweetened cocoa powder. Blend until mostly smooth. You may need to scrape down the sides a few times and blend again until mostly smooth.

Fold in 1/4 cup of the mini chocolate chips and spread out the mixture evenly in a sprayed 9×9 baking dish.

Top the brownies with the remaining 1/4 cup of mini chocolate chips, pressing them into the batter slightly.

Bake for 18-20 minutes or until cooked through.
Recipe Notes
Nutritional Information
3 WW Freestyle Smartpoints | 153 calories, Carbs: 30.7g, Fat: 4.2g, Protein: 3.6g per brownie
Notes
I have discussed where to buy the Monkfruit/Erythritol blend earlier in my post. This can be substituted for granular sugar, which will modify the nutrition and WW points slightly.
These are best stored in the fridge if not immediately eaten.